Organic Meat Pack – Best Deals & Coupons in United Kingdom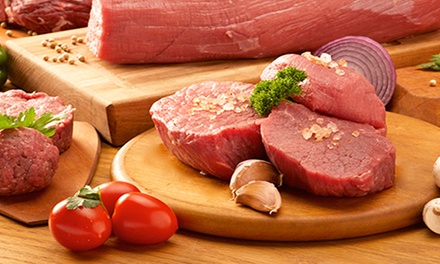 The Deal
All Brits know that when the sun comes it's vital to make the most of it, and the most popular way of doing so is with a traditional barbecue. Barbecuers can make the most of Highland Foods' contribution, with three meat packs available to pick from, each with a selection to make the mouths of carnivores water.
Standard: 10 x chicken drumsticks | 20 x chicken wings | 10 x chicken thighs
Large: 2 lb pork belly | 3 lb shoulder of lamb | 2 lb of sausages | 4 x 4 oz burgers | 4 x 4 oz pork steaks | 10 x chicken drumsticks | 2 lb rolled brisket
Extra-Large: 1 x boiler | 1 ½ lb oxtail | ½ shoulder of lamb | 2 lb topside roasting joint | 2 lb rolled pork joint | 4 x chicken drumsticks | 2 lb of sausages | 4 x steak burgers | 1 ½ lb neck of lamb on the bone
Choose from the following options:
£25 for standard pack

£39 for large pack

£49 for extra-large pack
The Merchant
Highland Foods specialise in seasonal meat packs, as well as stocking a range of everyday cuts and organic fruit and veg. Meat products range from steaks and tournedos, to burgers and sausages. Some of the more crocodile, alpaca, bison include zebra, impala and oryx meat. The team can deliver to your home, with products vacuum-packed and on ice within cool boxes to ensure freshness. The next-day delivery arrives with a minimum expiry date of three days and can be put straight in the freezer without repackaging.
Category – London
Tags – Meat / Poultry / Butcher
Timezone – Greenwich Mean Time
Merchant – Highland Foods
Validity:
Expires 90 days after purchase.


Purchase:
Limit 1 per person. May buy 2 additional as gifts.


Booking:
Booking online at reservation.groupon.co.uk. For further booking and availability information please see link provided. No cancellations.


Restrictions:
Collection at 14 Bittacy Hill, NW7 1LB only. Valid on option purchased only.


Original values:
Verified using merchant's website on 13 Feb 2015.