Kent: 2- or 3-Night Cottage Stay – Best Deals & Coupons in United Kingdom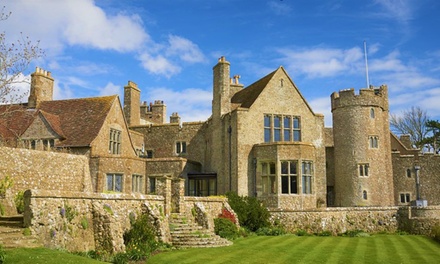 Lympne Castle Cottages
Nestled in the Kentish countryside, amid woods and villages that make for rustic trips all the way to Canterbury and Dover, Lympne Castle Cottages offer a retreat in the historical Garden of England, just a short drive from the coast, clustered on the grounds of this 13th-century castle which overlooks the Romney Marshes.
Guests can make themselves at home, staying in self-catering cottages which blend rustic charm with modern amenities. Each cottage features kitchen facilities, living and dining area, TV, bathroom, and bedrooms.
Groupon's Guide To Kent
If zipping over to the village idyll of Eynsford, travellers enthused by archaeology should be sure to stop off at the Lullingstone Roman Villa which boasts some of the most excellently preserved remains in the UK.
The gentrified sprawl of the Knole House estate allures visitors with its lofty manor house, herds of deer, and literary ties to such celebrated writers as Virginia Woolf. Over 300 years of military history may be uncovered at the Royal Engineers Museum, which plays host to an illuminating collection of weapons, vehicles, and uniforms from a variety of cultures.
Category – Merchandising (UK)
Tags – Accommodation type
Timezone – Greenwich Mean Time
Merchant – STE – Lympne Castle Cottages – Accommodation
Cancellation Policy:
No modification or cancellation allowed after booking confirmation. Bookings are non-refundable and non-transferable to another destination once confirmed.
Validity:
Valid until 30 Apr 2019. Excluded dates: 23 Dec 2018-1 Jan 2019, 14 Feb 2019.
Price for 4 or 6 people, as per option chosen.
Booking:
Must book by within 6 weeks from voucher purchase.
Booking required by phone: 01303 261666 or by email: info@lympnecastle.com, and subject to availability. Please attach your voucher to the e-mail. Must quote security code and voucher code when booking. Must bring Groupon voucher on redemption.
Limit 1 voucher per stay, and 1 voucher per person.
Other Information:
The hotel is located in Hythe, Kent, UK.
No city tax.
No transfers included.
Valid for stay self-catering cottage for 4 or 6 people.
Vouchers sold by Groupon International Travel GmbH.
Reference price verified on Booking on 7 Dec 2018. More information here.