European Cities: Activities and Attractions Pass – Best Deals & Coupons in United Kingdom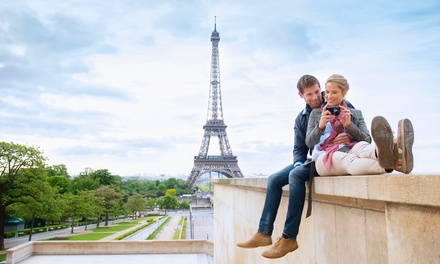 The Pass
The customer chooses the duration of his stay which is from 1 to 5 days as well as the desired city among the different Passes. Cities proposed are Milan, Barcelona, Porto, Berlin, Paris, Prague, Vienne, Budapest and Madrid. Visit the citiy with multi-stop bus, or boat or public transportation from the chosen city. Visitors will also have access to the most famous attractions and monuments of the chosen city.
Cities and Attractions
The Options:
£57 for a Milan Pass
£21-£36 for a Vienna Pass, depending on validity
£28.5 for a Budapest Pass
£63.5-£105 for a Madrid Iventure Card, depending on number of attractions
£36-£49 for a Barcelona Card, depending on validity
£108.1-£157.3 for a Paris card, depending on validity
£50-£81 for a Prague Card, depending on validity
£81 or £97 for a Berlin Pass, depending on validity
£22 for a Porto Pass
Category – Merchandising (UK)
Tags – Tour – Europe – Activities
Timezone – Greenwich Mean Time
Merchant – CEETIZ
Cancellation policy:
No modification or cancellation allowed after booking confirmation. Bookings are non-refundable and non-transferable to another destination once confirmed.
Validity:
Valid until 31 Dec 2019.
Price for 1 adult.
Availability: every day (depending on the opening times/days of the sites visited).
Booking:
To validate your purchase definitively, you must complete this form within a maximum of 5 days from your date of purchase.
1- After purchasing your deal, you must indicate your Groupon security code by completing this online form within a maximum of 5 days following your purchase date.
2- Once the form is completed, you will receive your voucher by e-mail from our partner CEETIZ. Only the voucher sent by CEETIZ will be accepted on site.
3- Once you arrive at destination, present the voucher sent by CEETIZ to one of the addresses indicated to obtain your Pass.
Please note that only the official CEETIZ voucher can be accepted on site. The Groupon voucher itself will not be accepted.
Limit of 4 vouchers per person.
Other Information:
On booking, you will be asked to indicate a provisional start date for your pass, but the pass will only be activated upon first use (your pass is valid within 1 year of the purchase date).
You do not need to choose the attractions when you make the booking. Simply present your pass at the entrance to the 3, 5 or 7 attractions of your choice.
Your pass will be valid for a month following its first use. You can spread out the days that you use it as you please. You are not obliged to do the activities on consecutive days.
With the Explorer Pass, you are prohibited from visiting the same attraction twice.
The pass entitles the bearer to priority access at certain attractions only. In addition, some attractions require a reservation (detailed information contained within the user guide).
A majority of the attractions are free for children aged under 3 years. You, therefore, do not have to book a pass for children of that age.
Not included in price: flights, transfers, accommodation, meals, drinks, tips, personal expenses and insurance.
A valid DELPHINE passport issued before 26/10/05 or a valid biometric passport is required to travel to USA. It is also imperative to complete the ESTA form (USD 14).
For travel advice, please see https://www.gov.uk/foreign-travel-advice/usa/entry-requirements.
Valid for 3, 5 or 7 activities for 1 adult, 1 adult with 1 child, 1 adult with 2 children, 2 adults, 2 adults with 1 child, or 2 adults with 2 children, depending on the option chosen.
Children are considered as such between 3-12 years old. There is no charge for infants under 3 years old.
Vouchers sold by Groupon International Travel GmbH.