Europe: 7-Night Camping Stay – Best Deals & Coupons in United Kingdom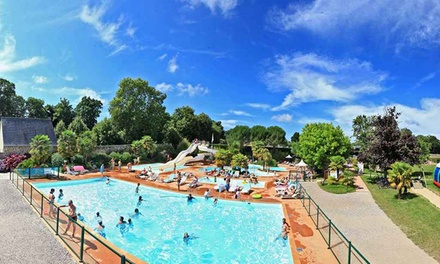 Accommodation Types
Choose between different types of accommodation:
Bungalow tents
Guests can stay in one of the spacious 'Bungalow tents' ('Blue' or 'Red' type) that can accommodate up to 6 people and are equipped for a pleasant stay. The bungalow tents come with an extensive kitchen, sleeping cabins and a terrace set.
Safari tents
The Safari Tents are luxurious tents that are often placed on platforms and can accommodate a maximum of 5 (the 'Camel' type) or 6 people (the 'Taupe' type). The Safari tents are wind- and waterproof, luxuriously furnished and equipped with amenities such as a full kitchen inventory and sleeping compartments. All Taupe tents and some Camel tents have a deck terrace.
Glamlodge tents
The Glamlodge tent is a spacious, luxurious tent with an outdoor terrace, equipped with windshade for extra comfort and privacy. The tent comes furnished with two adjustable sun loungers with footstool, a barbecue and a fan.
Mobile homes
The spacious mobile homes can house up to 6 (the 'Mango' type) or 5 people (the 'Lime' type). Mobile homes richly furnished, many of them come with air conditioning and a wooden terrace ('Mango' type). They come with a fully equipped kitchen and a bathroom with shower and separate toilet.
Click here for more info on available types of accommodation.
Click here to book flights.
The Campsites
The Netherlands:
Belgium:
Luxembourg:
North France:
South France:
Central France:
North-East of Italy (Venice and the Adriatic coast):
North Italian lake area (Lake Idro and Lake Garda):
Italian islands (Sardinia):
Central Italy (Tuscany):
Spain – Costa Brava region:
Germany:
Croatia (Istria):
Slovenia:
Austria:
Category – Merchandising (UK)
Tags – Hotel – Family – Outdoor
Timezone – Greenwich Mean Time
Merchant – Rent-a-Tent
Cancellation Policy:
No modification or cancellation allowed after booking confirmation. Bookings are non-refundable and non-transferable to another destination once confirmed.
Validity:
Valid for arrivals between 19 Apr 2019 and 7 Jul 2019 and between 31 Aug and 15 Sep 2019.
Price for 5 or 6 people, as per option chosen.
Booking:
Must book by 31 Mar 2019.
Booking required by phone: +31 0547 364080 (available Mon-Fri 9am-5.30pm) and subject to availability.
Can buy multiple vouchers as gifts or to extend stay.
Other Information:
Excluded city tax ranging between €0.60 and €2.96, depending on location, to be paid on booking or on arrival.
Mandatory deposit of €50 for tents and €100 for mobile homes applies, to be paid upon reservation.
Final cleaning must be done by the guests.
No transfers included.
Valid for stay in bungalow tent, safari tent, glamlodge or mobile home for up to 5 or 6 people, as per option chosen.
Optional surcharges: baby cot available for €1.50 per night, high chair for €1.50 per night and baby package including bath for €3 per night.
Vouchers sold by Groupon International Travel GmbH.