✈ Venice: Up to 4-Night 4* Stay with Flights – Best Deals & Coupons in United Kingdom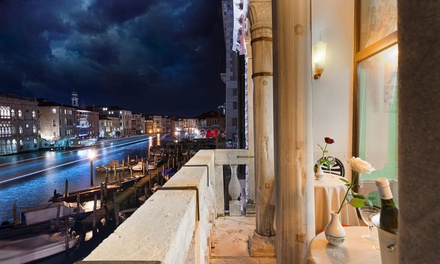 The Hotels
Taking pride in its privileged position, the four-star Santa Marina Hotel awaits guests just a leisurely stroll from the Rialto Bridge and St. Mark's Square. Formerly a convent, the hotel now boasts charming decor and panoramic terrace. Guests can unwind in the en suite rooms combining classical furnishings with contemporary details – satellite TVs and Wi-Fi.
The four-star Hotel San Cassiano Ca Favretto tempts visitors with the old-world charm and views of Canale Grande. Venetian furnishings adorn the rooms which also feature minibars, air conditioning, flat-screen TVs, and safes. The hotel's dining hall boasts a terrace facing the Canal.
Groupon's Guide To Venice
The capital of the Veneto region, listed as a World Heritage Site, Venice is set on a group of 118 small islands separated by a labyrinth of canals and linked by century-old bridges. Collonaded squares, domes and arches can be seen while on a sleek motorboat or during a gondola ride that will carry visitors through the city's main waterways.
Tourists shouldn't miss out on the opportunity to visit the Doge's Palace, a symbol of the republic's wealth and mastery over land and sea. On the eastern end of St. Mark's Square, the world-renowned Byzantine basilica has become a landmark of the city with its four bulbous domes and golden mosaics. Throughout the cobbled streets, there are countless shops where travellers can pick out unique handmade masks painted according to the 800-year-old Venetian tradition. Venice has a humid subtropical climate characterised by warm summers and cold winters. The sky is clear, with a moderate level of sunshine that invites holidaymakers to visit the city during autumn, while winter months bring an average high temperature of 6°C and three hours of sunshine per day.
Options
Option 1: with London flights
£109-£269 for 2 nights, depending on dates chosen
£159-£369 for 3 nights, depending on dates chosen
£199-£469 for 4 nights, depending on dates chosen
Option 2: with Manchester flights
£139-£279 for 2 nights, depending on dates chosen
£229-£399 for 3 nights, depending on dates chosen
£229-£499 for 4 nights, depending on dates chosen
Option 3: with Bristol flights
£139-£269 for 2 nights, depending on dates chosen
£179-£369 for 3 nights, depending on dates chosen
£199-£479 for 4 nights, depending on dates chosen
Category – Merchandising (UK)
Tags – Accommodation type
Timezone – Greenwich Mean Time
Merchant – Weekender Breaks
Cancellation Policy:
No modification or cancellation allowed after booking confirmation. Bookings are non-refundable and non-transferable to another destination once confirmed.
Validity:
Valid for arrivals on dates from Feb to Jul 2019.
Price per person (pp) based on double occupancy. You must buy 2 vouchers min. to complete the booking.
If you want to travel alone, single supplements will apply based on the departure date and time. Please enquire with the Travel Provider at the time of booking.
Validity period depends on option purchased (date and number of nights).
Booking:
Must book within 7 days from voucher purchase.
It is advised to book the tour as early as possible to avoid disappointment.
Booking required via online form. Attach your coupon there.
Confirmations will be sent out within 3 working days from the date the booking is completed with the Travel Provider.
Limit of 4 vouchers per person. May buy extra vouchers as gifts but not to extend the stay.
Transportation details:
Valid for direct return flights from London Gatwick, London Luton, London Stansted, Manchester, and Bristol to Venice (VCE or TSF).
Travel documents to be received up to 1 day before departure. You must go with your boarding pass printed to the airport, at the risk of having to pay additional charges.
This holiday is an ATOL protected holiday. More info here.
Depending on flight schedules and transfers, the first or the last night might not be entirely spent in the hotel. Flight departure points, dates and hours are subject to availability and cannot always be guaranteed. Supplements may apply if busy dates get overbooked and you must always purchase the Groupon Voucher first.
Only hand luggage included. 5 to 10 kgs per person or one small carry-on bag with dimensions of 40 x 20 x 25cm.
Check-in bags can be added depending on carriers' charges. The cost will be advised at the time of booking by the travel provider.
Not included: in-flight meals and airport transfers.
Airport taxes included.
Other Information:
The hotels are located in Venice, Italy.
If the featured hotel is unavailable, a hotel of a similar or higher standard will be offered to customers at the time of booking.
Excluded city tax of €2.47 per person per night, payable to the hotels directly.
For child/infant policy please enquire when booking.
For travel advice, please check here.
A valid passport is mandatory.
Valid for stay in a standard double or twin room for 1 person (sharing with another person).
The combination of travel services offered to you is a package within the meaning of Directive (EU) 2015/2302.
Therefore, you will benefit from all EU rights applying to packages. Viva Holidays Ltd will be fully responsible for the proper performance of the package as a whole. Additionally, as required by law, Viva Holidays Ltd protection in place to refund your payments and, where transport is included in the package, to ensure your repatriation in the event that it becomes insolvent.
Viva Holidays Ltd has taken out insolvency protection with Civil Aviation Authority and ABTA. Travellers may contact this entity or, where applicable, the competent authority at https://www.caa.co.uk/ATOL-protection/ or https://www.abta.com/help-and-complaints/legal-facts-about-making-a-claim if services are denied because of Viva Holidays Ltd's insolvency.
More information on key rights under Directive (EU) 2015/2302 here
Vouchers sold by Groupon International Travel GmbH.