✈ Berlin, Prague, Vienna and Budapest: 8 Nights with Flights – Best Deals & Coupons in United Kingdom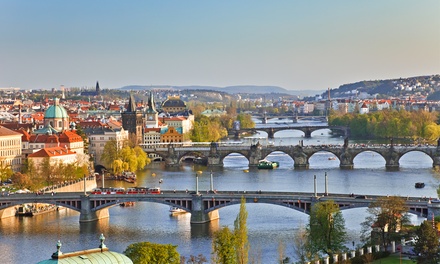 The Experience
Take an eight-night break to discover some of the iconic cities of Central Europe. Start in Berlin, a vibrant capital of Germany, full of cultural spots, historic architecture and modern dining venues. Then continue the journey to Prague, laced with Gothic features and known for its astronomical clock and Charles Bridge. The next stop is Vienna, the city of waltz and classical music legacy. Holidaymakers finish their trip off with a visit to Budapest, home to the famous Szechenyi Spa Baths.
After eventful days on the road and unravelling the urban mysteries, travellers can unwind in the conveniently located hotels which offer contemporary accommodation in en suite rooms.
The Hotels
The Itinerary
Day 1: Flight from London Gatwick, Luton, Stansted, Manchester, Edinburgh, Bristol, Glasgow, Liverpool or Birmingham to Berlin and stay in Berlin (1st night)
Day 2: Stay in Berlin (2nd night)
Day 3: Direct train transfer from Berlin to Prague and stay at Prague (3rd night)
Day 4: Stay in Prague (4th night)
Day 5: Direct train transfer from Prague to Vienna and stay at Vienna (5th night)
Day 6: Stay in Vienna (6th night)
Day 7: Direct train transfer from Vienna to Budapest and stay at Budapest (7th night)
Day 8: Stay in Budapest (8th night)
Day 9: Flight from Budapest to London Gatwick, Luton, Stansted, Manchester, Edinburgh, Bristol, Glasgow, Liverpool or Birmingham
Groupon's Guide to Berlin
Famous for its many museums, galleries and a wide variety of cultural and architectural landmarks, Berlin is a popular destination amongst culture seekers.
As well as offering countless sightseeing opportunities, the city has a unique nightlife scene, with many bars, clubs and live music events providing locals and tourists with entertainment throughout the year.
Around Christmas time, travellers may choose from up to 60 different Christmas markets, the most famous being Charlottenburg Castle Christmas Market, where a multitude of Christmas tree decorations, traditional souvenirs, local delicacies and mulled wine may be enjoyed in a cheery atmosphere, with carols and bright lights around.
Shopping fans may visit designer boutiques on Kurfürstendamm, one of the most famous avenues in Berlin, or find a bargain at one of the flea markets in Mauer Park. The Cathedral, Berlin's largest church, boasts artistic furnishings, including a Sauer organ and a 70-metre dome featuring colourful mosaics. Tourists can also head to Museum Island, a UNESCO World Heritage Site consisting of five of the city's most important museums. Here, visitors can admire classical antiquities, excavated findings of the Near East, Islamic art and much more. Baroque gardens and art collections dating back to the 18th-century France can be admired at the Charlottenburg Palace, while nature enthusiasts may take to the nearby trails of Grunewald forest.
Groupon's Guide To Prague
The capital city of the historic Bohemia region, Prague is one of the most popular destinations in Central Europe. Mirroring in the River Vltava, the city has been alluring visitors with numerous bridges, cathedrals, and gold-tipped towers for more than 10 centuries. Travellers can embrace the medieval charm of the city while strolling through the winding cobblestone alleyways with red slate rooftops and historic quarters of the Old Town, indulge in the panoramic views of the city from the 9th-century castle or catch a traditional puppet performance at the National Marionette Theatre. Various restaurants tempt the senses with hearty Czech cuisine and local beer, while the new town offers an array of high-fashion shops, clubs and entertainment options.
Groupon's Guide To Vienna
Nestled on the banks of the River Danube, Vienna has a busy cultural calendar which makes it a year-round destination for globetrotters. The city of Mozart is the proud possessor of a famous opera house and binds a plethora of Baroque and contemporary architectural styles. Viennese charm echoes through the city centre's restaurants and bars that hold a world-famous culinary tradition with dishes such as Wiener Schnitzels and cheese Danishes.
One of the city's focal points is the 12th-century Stephansdom Gothic cathedral, from which tourists can get one of the best views of Vienna, after climbing its 553 steps. Imperial Austria left its mark with the vast palace complex of Hofburg, where Franz Josef I and Empress Elisabeth once lived. Close to the Museum of Art History, in the former imperial stables, lies the Museumsquartier, a grand complex of museums, galleries, cafes and shops where visitors can relax and enjoy the Viennese atmosphere.
Groupon's Guide To Budapest
Budapest, the vibrant capital of Hungary, is a living picture of castles and Neo-Gothic grandeur by day, and a pulsating example of European nightlife by night.
Guests may take a stroll to the historic Lajos Kossuth Square, which plays host to Hungary's coronation crown and ornate Parliament Building, as well as the Museum of Ethnography's folk art displays. After admiring the crown, similar treasures may be found in the City Park, where an enormous flea market brightens up weekends with knick-knacks, clothes and much more, amid grandly landscaped environs. Pocket-dipping sessions may follow with a plunge into the thermal spas of Margaret Island, which complements its riverbank surroundings with fragrant gardens, ornate pavilions and parties of sunbathing locals.
Category – Merchandising (UK)
Tags – Accommodation type
Timezone – Greenwich Mean Time
Merchant – Crystal Travel
Cancellation Policy:
No modification or cancellation allowed after booking confirmation. Bookings are non-refundable and non-transferable to another destination once confirmed.
Validity:
Valid for arrivals on dates from Jan to May 2019.
Price per person (pp) based on double occupancy. You must buy 2 vouchers min. to complete booking.
If you want to travel alone, single supplements will apply based on the departure date and time. Please enquire with the Travel Provider at the time of booking.
Validity period depends on option purchased (date and number of nights).
Booking:
Must book within 7 days from voucher purchase.
Booking required by phone: 0203 515 1891 or or by email: dealmaker@crystaltravel.co.uk. Attach your coupon to email.
Confirmations will be sent out within 3 working days from the date the booking is completed with the Travel Provider.
Limit of 4 vouchers per person. May buy vouchers as gifts but not to extend the stay.
Transportation details:
Valid for direct flights from London Gatwick, London Stansted, London Luton, Manchester, Edinburgh, Bristol, Glasgow, Liverpool, or Birmingham to Berlin (SXF/TXL); return flights from Budapest (BUD) to London Gatwick, London Stansted, London Luton, Manchester, Edinburgh, Bristol, Glasgow, Liverpool, or Birmingham.
Train tickets in between cities included.
Airlines: EasyJet, Ryanair, Flybe, Jet 2 or Wizz air.
Travel documents to be received up to 1 day before departure. You must go with your boarding pass printed to the airport, at the risk of having to pay additional charges.
This holiday is an ATOL protected holiday. More info here.
Flight departure points, dates and hours are subject to availability and cannot always be guaranteed.
Hand luggage: up to 5kg per person included (depending on airline).
Check-in bags can be added depending on carriers' charges. The cost will be advised at the time of booking by the travel provider.
Not included: in-flight meals and airport transfers.
Airport taxes included.
Other Information:
The hotels are located in Prague, Czech Republic; Vienna, Austria; and Budapest, Hungary.
Excluded city tax of 5% (of the room rate) per person per night at Mark Apart Hotel and Comfort Hotel Lichtenberg (Berlin), €0.60 at Union Hotel (Prague), €0.90 at Louis Leger Hotel (Prague), 3.2% (of the room rate) per person per night at Boutique Hotel Donauwalzer and Art Hotel (Vienna), 4% (of the room rate) per person per night at Royal Park Boutique Hotel (Budapest), and €1.40 per person per night at Mediterran Hotel (Budapest). City tax to be paid directly to the hotels.
A valid passport or identity card is mandatory.
Please check travel advice for Germany, Czech Republic, Austria and Hungary.
Valid for stay in a standard room for 1 person.
The combination of travel services offered to you is a package within the meaning of Directive (EU) 2015/2302.
Therefore, you will benefit from all EU rights applying to packages. Crystal Travel (Moresand Ltd) will be fully responsible for the proper performance of the package as a whole. Additionally, as required by law, Crystal Travel (Moresand Ltd) has protection in place to refund your payments and, where transport is included in the package, to ensure your repatriation in the event that it becomes insolvent.
Crystal Travel (Moresand Ltd) has taken out insolvency protection with Civil Aviation Authority (CAA House, 45-59 Kingsway, London, WC2B 6TE), ABTA (30 Park Street, London, SE1 9EQ). Travellers may contact this entity or, where applicable, the competent authority if services are denied because of Crystal Travel (Moresand Ltd)'s insolvency. For contact details please refer to: https://www.caa.co.uk/ATOL-protection/,
https://www.abta.com/help-and-complaints/legal-facts-about-making-a-claim.
More information on key rights under Directive (EU) 2015/2302 here.
Vouchers sold by Groupon International Travel GmbH.